When it comes to your wedding day, you want to look and feel your best. This is a day that you will remember for the rest of your life, so choosing the perfect dress is important. If you are looking for something elegant and timeless, ball gown wedding dresses may be just what you need. These dresses create a sense of elegance and drama that will impact all who see you. Plus, they are perfect for any wedding venue, from classic churches to rustic barns. Read on to learn more about this dress style and find the perfect one for your big day!
What is a Ball gown wedding dress?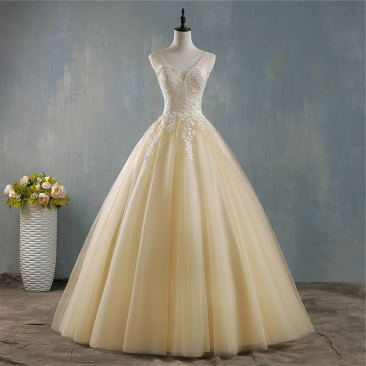 When most people think of a ball gown wedding dress, they likely imagine something like the dress worn by Cinderella in the popular Disney movie. Their full skirts and tight bodices characterize ball gown wedding dresses, and they often have elaborate detailing or lace accents. While these dresses are formal, they can be extremely beautiful and timelessly elegant. So, if you're looking for a truly special gown for your big day, a ballgown might be just what you're looking for.
The big day is coming up, and we know the bride has a lot on her mind. But one thing she shouldn't be worrying about? Finding that perfect dress! We want to help you out by showing off some of our favorite elegant ball gown wedding dresses for your big day. These dresses can make sure you feel sexy, beautiful, and like a princess when it comes time to walk down the aisle. So, keep reading if you are looking for ideas or inspiration when choosing your dreamy bridal gown!
Gorgeous princess wedding dresses that'll make you swoon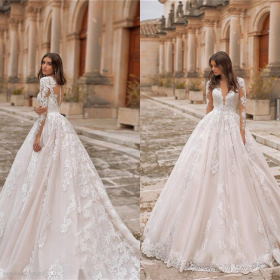 A princess wedding dress is the stuff dreams are made of. So, whether you're dreaming of a fairytale wedding or want to feel like a glamourous princess on your big day, there's no denying that these dresses are stunning. From ballgowns with layers of tulle to sleek sheaths with intricate beading, there's something for every bride-to-be out there. So, if you're in the market for a show-stopping gown, read on for some of the most attractive options out there.
Once upon a time, a girl fell in love with the most handsome man ever. And they got married! How do we know this? Because she wore one of these wedding dresses to walk down the aisle and into her happily-ever-after. There's something for every princess bride here — whether you want to look completely traditional or make an unconventional statement without having to sacrifice on your big day glamour. Just remember: happy endings don't just take place in fairy tales.
Our editors have carefully handpicked every style based on their potential ability to knock your socks off (or heels, as it were). So, if you click through and end up purchasing any of the featured shops, know that you're in good company: these dresses have all been worn by brides who looked like total goddesses.