Choosing the right wedding tattoo can be a daunting task. But with the right inspiration, it can also be a lot of fun. So, if you're looking for ideas, take a look at these romantic wedding tattoos that are sure to inspire you. From delicate designs to elegant scripts, there's something for everyone here. So, if you're thinking about getting married and want to commemorate your big day with a tattoo, these ideas are a great place to start.
Matching designs for the perfect couple wedding tattoos
As if getting married wasn't nerve-wracking enough, now you have to worry about picking the perfect tattoo to commemorate the big day?
Relax, we've got you covered. From elegant designs that will make your guests swoon to fun and playful ideas that will show off your personality, we've gathered some of the best romantic wedding tattoos ideas to inspire you.

One of our favorite romantic wedding tattoos ideas is a simple design featuring two hearts intertwined. This classic look is timeless and can be customized with any color scheme or font style that you choose.
Another popular option is a sweetheart neck tattoo. These delicate tattoos feature two hearts placed side by side on the neck and are perfect for showing off your love for each other.
If you're looking for a more subtle option, consider getting a wedding band tattoo. This simple design can be customized to fit your style and is a great way to show your commitment to your spouse.
The best wedding ring tattoo ideas for your big day
When you're getting married, there are many things to think about. But one thing that often gets overlooked is the wedding ring. While many couples choose to stick with a traditional ring, others might consider something a bit more unique. If that sounds like you, you might want to check out some wedding ring tattoo ideas. These tattoos can be a great way to show your commitment to your partner and make your wedding day even more special. Plus, they'll last forever! So, if you're interested in getting a wedding ring tattoo, here are some ideas to get you started.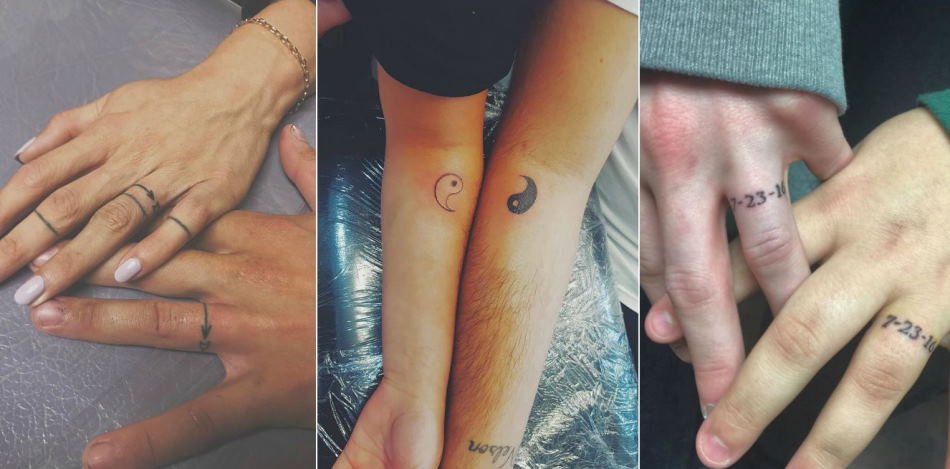 There are so many different weddings ring tattoo ideas that you can choose from to represent your big day. Here are just a few of our favorites:
A simple band tattoo on your finger symbolizing your commitment to each other
An infinity sign or heart tattoo represents the eternal love between you two
Wedding rings with intertwined designs of Celtic knots
A date in Roman numerals as your wedding anniversary tattoo
The lyrics of your favorite song as a tribute to your love story
A small flower or leaf design to represent nature and the outdoors.